Donation Drop-off Locations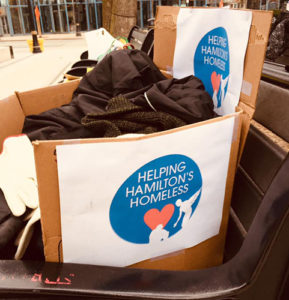 Donations can be dropped off at any of the following locations:
Grimsby porch drop off anytime – 3 Merritt Cres Grimsby
2. Barbera B. – 101 Tolton Ave / East end Hamilton by request
3. Any 4 board members – pm them personally / Sharon, Suresh, Netasha, Victoria
4. Deliver directly to our walks every second Sunday at noon / parking lot corner of John and Wilson St lot (behind Urban core )
5. Storage garage on Dundurn St – by appointment only – only large donation drop offs are made here
6. Leanne S – 36 DeGrow Binbrook (porch)
7. Roberta W – 431 Upper Gage Ave Hamilton (big blue donation box at end of driveway )
8. Nicole Bain – Mount Hope /Caledonia area – by request
9. Barb A – Hamilton Mountain – Corsica Court
10. Roslyn – French – 560 Scenic Drive West mountain

Notes:
Monetary donations can be made either by e-transfer to our e-mail at
[email protected]
or PayPal on our web page
Please be vigilant with what you are dropping off. We don't have a lot of storage space so it must fit the need at the time for weather seasons and in it must be in good condition. We do not hand out clothes with holes, not cleaned or any used socks or hygiene items.
Our greatest need is for men's clothing and footwear as approximately 80% of the people we help are male.
We do not accept children's clothing at this time.