Donation Drop-off Locations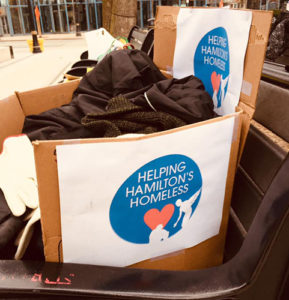 Due to space issues, we are not accepting any further drop-off donations at the moment. If you have donations that can be distributed during our walks, please contact us first at helpinghamiltonhomeless@gmail.com
Thank you!

Notes:
Monetary donations can be made by e-transfer to our e-mail at
HelpingHamiltonHomeless@gmail.com
Please be vigilant with what you are dropping off. We don't have a lot of storage space so it must fit the need at the time for weather seasons and in it must be in good condition. We do not hand out clothes with holes, not cleaned or any used socks or hygiene items.
Our greatest need is for men's clothing and footwear as approximately 80% of the people we help are male.
We do not accept children's clothing at this time.